Currently undergoing some change…
PLEASE CLICK HERE in the interim, to view all work
Thank you for your support & patience… Vicki Ferrari
& M o t i v a t i o n a l D e s i g n s
P r i n t s … Framed, Laminated, Canvas, Mounts & Posters
P r o m o t i o n a l & G r a p h i c D e s i g n
C o m m e r c i a l . P h o t o g r a p h y
P o r t r a i t s – P e o p l e & P e t s
C u s t o m . D e s i g n Stickers, Clothing
G r e e t i n g . C a r d s Personalised
P o s t C a r d s Customised
E v e n t . I n v i t a t i o n s
B u s i n e s s . C a r d s
C a l e n d a r s
S t i c k e r s
C l o t h i n g . T-Shirts, Babies to Adults, All Styles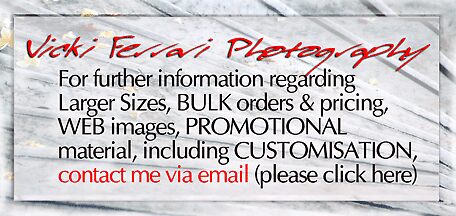 by most popular, by recent, or by category, by clicking on links supplied, directly below
ALTERNATE Viewing Style or
INDEX View for (most) Images
If you are interested in purchasing any of my work, please click on the button next to the image. You can then see how your print would look like as a card or as a print, with your choice of matte colour and frame colour.
Please contact me if you have any queries in regards to any card (or print) designs that you would like personalised i.e. if you would like to have a favourite saying added to one of my photographs. I will then make these available for purchase.
Featured Work When viewing my gallery, the featured work means that these are images that have been featured in Groups that are on the RedBubble Website – a great honour!
Thank you and I hope that you enjoy viewing my website! Please feel free to contact me, obligation free, in regards to customisation, or web images and pricing.

All images & photographs are copyrighted & owned by © Vicki Ferrari

©